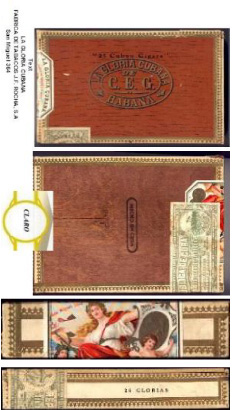 Little information is known about this sealed box of aged Cuban Cigars manufactured sometime between 1972-1975. From information gathered from various experts around the world who specialize in vintage Cuban cigars, it has been established that:
This "unopened" box of Aged Cuban Cigars was manufactured sometime between 1972-1975. Does anyone know it's history.
The Cuban cigar marque, "glorias" were first mentioned in a Cubatobacco trade magazine in 1972.
The size of the cigar is 61/4 inch x 46 gauge.
It was a pre-revolutionary model.
The cigar was re-made again when La Gloria Cubana was resurrected as a sub-brand of Partagas.
No record can be found that it has ever been sold at vintage cigar auctions.
Production was dis-continued in the mid seventies
UPDATE 3/2/01 :
A local printer who's family have been in the printing industry since 1903, has been able to inform me that the cigar box, and band, are printed in a form of letterpress printing in four colours. Three of the colours being cyan, magenta. and yellow, are printed process. A fifth colour ( gold ) has been added after the process. This fifth colour has then been dusted with a gold powder to give a sort of flickering of the gold ink. Letterpress printing and gold dusting in this form in not as prevalent now as it was in the 1960's and 70's.The cigar seems to have had a very short production period, and little history has been recorded.
If anyone has any information on this Cuban cigar brand could they please e-mail
sales@cigarheaven.com.au